Rest In Peace - Bernie Mac
Classic GIF of the Mac Man from the movie
Head of State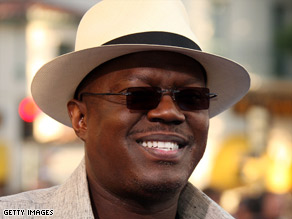 Sad news this Saturday morning.
Chicago Sun Times - Comedian, South Sider Bernie Mac dies at 50
CNN - Comic actor Bernie Mac dies
So in tribute to one of the funniest comedians I've ever seen in person, here's a number of his stand ups and clips from various movies and TV shows.
First appearance Def Comedy Jam... CLASSIC!!!
Second appearance on Def Comedy Jam
Kings of Comedy - My Sister's Kids
House Party 3
Friday
Life
Bernie Mac Show
Transformers
Head of State
Bad Santa
Don't Be A Menace
How To Be A Player
PBS Interview with Tavis Smiley
Peace & Love...
G. Mo