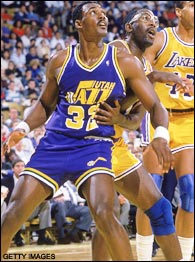 I can't tell you why I didn't like him, I just didn't. It wasn't that he played for the Utah Jazz or that he was Black redneck dude with a Jheri curl who drove tractor trailers. I dunno what it was, something just rubbed me the wrong way about this cat.
Edit: Through a quick email exchange with my man Mr. Wyatt, I was reminded of one reason we didn't like 'The Mailman'. Ole Karl was hatin' on Magic when he was thinking about coming back to play after he made the announcement about having HIV. Here's the NY Times story as well for those who don't recall the negative comments he made.
BASKETBALL; Johnson's Return to League Isn't Welcomed by Some
In all seriousness, isn't it strange how you can really dislike a person, but you never know why. Then you find out something about that person that makes you go, "Yeah, I knew I aint like that dude". This right here… this right here just shows how trife that dude was.
The Buffalo News: Allen Wilson: Dad Karl Malone a footnote in Demetrius Bell's life
COMMENTARY
Dad Karl Malone a footnote in Demetrius Bell's life
Allen Wilson
04/29/08 3:54 PM
If you're a fan of NBA great Karl Malone, you might change your mind when you start reading this column.
If you never heard of Buffalo Bills rookie offensive tackle Demetrius Bell, you'll be rooting for him when I tell you his story.
Bell was a seventh-round draft pick and two-year starter at Northwestern State, the same Louisiana school that produced cornerback Terrence McGee.
Bell is the son of Malone, but the Mailman had no role in Bell's success except passing along athletic genes.
The two have had very little contact during Bell's life. His mother, Gloria Bell, reportedly was only 13 years old and Malone a college sophomore at Louisiana Tech when Demetrius was born. Malone might have served jail time had her family asked the district attorney to file criminal charges.
Bell didn't even know Malone was his father until after graduating from high school. When they finally met, Malone told the 18-year-old Bell it was too late to be his father, and that Bell would have to "earn his money on his own."
In a 1998 story in the Salt Lake (Utah) Tribune, Gloria Bell said, "Demetrius is ashamed that his dad doesn't claim him. But I've told him it is not his fault."
Malone also fathered twins while in high school. One of them is WNBA star Cheryl Ford. It took years to claim the twins, and now he and his wife, Kay, fully accept them as part of their family.
But what about Demetrius? Doesn't he deserve the same measure of love and recognition?
I can certainly relate to Bell's experience. I didn't meet my father until after my 40th birthday. Our separation was under different circumstances, but I can imagine how difficult it must have been for Bell not having a connection with the man partly responsible for his existence. At least my father and I have a relationship now.
As a first-time father, I can't understand how any man could turn his back on his own blood. There's a word for that, and it's appropriate: Deadbeat.
Fortunately for Bell, he's doing just fine without Malone. Bell has clearly moved on with his life.
"All of that's behind me right now," Bell said during a conference call Sunday. "I feel good I made it this far. Nothing against him, but I feel good at this time. If he would've been there, yeah, it would've been good. But if not, it's even better. Everything is a plus right now."
Bell has come a long way as a football player in a short time. His high school didn't have a football team, so he focused on basketball and was good enough to earn a scholarship to Northwestern State. He played in 88 games, with six starts, and was one of four Division I athletes to play basketball and football last season.
Bell didn't play offensive tackle until three weeks before the 2006 season opener at Kansas. That was the first of his 22 consecutive starts over the last two years.
Whether Bell will stick with the Bills remains to be seen. Seventh-round picks are the long shots on a preseason roster. But a player of his athletic ability deserves a good look.
"I've still got room for everything," Bell said. "I think my strongest part is pass blocking. But I'm getting stronger by the moment. That's a plus on my stopping the bull rush. Run-blocking is always getting better when I'm adding bulk and getting stronger. And technique- wise, it's all about the coach teaching me his technique or what technique he wants. I think it's all on the upside."
Here's hoping Bell has a long and prosperous NFL career. He might never be as great in his sport as Malone was in his, but Bell has already surpassed his father as a man.
awilson@buffnews.com
I don't know if Demetrius Bell is gonna make the Bill squad. However even for a brotha I don't know, I wish him the best in his future endeavors. The last sentence from Allen Wilson's column says it all….
Peace-N-Love…
G. Mo