On a sad note, Red Auerbach died on Saturday night of a heart attack. Red was the President of the Celtics and was responsible for bringing 16 world championships to the Boston Celtics organization. As I've mentioned a number of times on this blog, I am a true Celtics fan. I've became a fan watching Tiny Archibald play in the late 70's, early 80's. Anyway, I met Red Auerbach when I was about 10 years old. My dad was working for the Washington Bullets at the time and I was at Capital Centre for a Bullets-Celtics game. Pop introduced me to Red and his brother Zang a few hours before the game. During the game I sat in the row directly across from him and he even got me an ice cream cone. Contrary to his public image of being tough, he was really a nice, friendly guy. I'll never forget that day.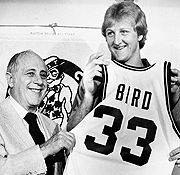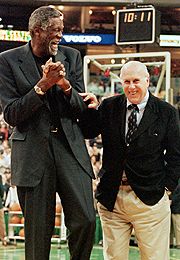 On a much happier note, I'm truly excited right now about the Cowboys victory over the Panthers tonight. When the game started with us down 14-0, I had to take a deep breath. But with QB Tony Romo at the helm, the team fought back and took care of business. He found Terrell Owens early and often. Both Julius Jones and Marion Barber ran like madmen. Roy Williams made a key interception and the D stepped up and made huge plays. I'd also like to take a moment to thank Keyshawn Johnson for his crucial drop of a sure TD in the 3rd quarter and the rest of the Panthers offense for playing awful in the 2nd half. Oh well, can't ignore the final results Cowboys 35 Panthers 14. Next week we've got the Redskins. Best believe I'll be at FedEx Field next Sunday with my Cowboys gear on, talkin' trash and rooting for my 'Boys.
That's about all I've got for today.